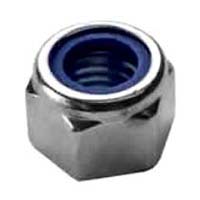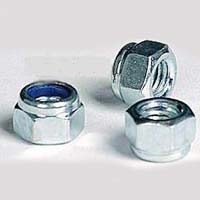 Nylock Nuts, also known as nyloc insert lock nut, is a kind of nut that includes a ring of nylon inside the thread. It is designed to increase locking force and prevent the nut from coming loose. The internal nylon ring has no threads cut into it; it is forced to deform around the threads as the nut is twisted on, ensuring a tight grip on the thread. In most applications, this type of nut should not be reused after being removed. Nyloc Nuts are torque prevailing nuts that use a nylon patented insert to provide a locking feature. The nylon insert also helps to seal the bolt thread against seepage of oil, water, petrol, paraffin and other liquids. Our precision engineered Nyloc nuts are fabricated using qualitative steel in the production process. Nylon nuts are available in different length and height combination to meet various applications. We offer a wide range of Nyloc nuts which give solutions to various industries.
We are entrusted with a task of supplying Nylock Nuts in the Indian market. We are in strong tie-ups with the certified vendors from whom we source these Nuts after complete quality satisfaction. In order to make hassle free deliveries, we make use of modern transit facilities for transportation. We deal in brands like RKGD, HQ, Patta, etc. Buyers are free to place orders, timely deliveries are what we are reckoned for!
Details : We are importing M4 TO M20 Sizes and UNC & BSW Sizes Too..